Since April 17, the old logo will be replaced by the new one of Chen Yun Memorial.
Introduction to new logo: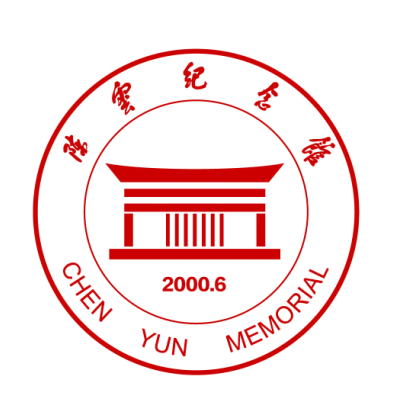 The new logo encompasses the Chinese character "yun", which symbolizes the Comrade Chen Yun, and also highlights the cloud-shaped appearance of the memorial hall. The architectural design follows the concept of "Tian Yuan Di Fang" (round sky and square earth), which demonstrates Comrade Chen Yun's spirit of strictly observing Party disciplines and seeking truth from facts.
Three horizontal lines on the top of the logo respectively represent three historical periods Comrade Chen Yun experienced in his life, namely, revolutionary times, socialist construction and the reform and opening-up. Nine vertical lines at the bottom signify the 90th anniversary of the birth of Comrade Chen Yun. The ladder-like arrangement of these lines manifests Comrade Chen Yun's spirit of seeking truth from objective facts, being steadfast in his work and making unremitting efforts. These meritorious characters helped Comrade Chen Yun become a great proletarian revolutionary, politician, outstanding Marxist, and time-tested party and state leader. Another seven lines in the middle are an epitome of the 70-year revolutionary career of Comrade Chen Yun. The horizontal line on the bottom symbolizes Comrade Chen Yun's lifelong dedication to the causes of socialism and communism.
The name of "Chen Yun Memorial" was inscribed by Comrade Jiang Zemin (President of China from 1993-2003). The date "2006. 6" was the time that the memorial was open to the public.