Architectural Features
Covering a plot of trapezoid-shaped, regular land with an area of 52 mu, Chen Yun Memorial is an expansion of Former Residence of Chen Yun and "Qingpu Revolutionary & History Exhibition Hall". The construction contents incorporate main building and ancillary facilities. The main building, covering 39-mu, is comprised of body part and auxiliary facilities. With a total building area of 5,500 square meters, its main building encompasses a 2,000-square-meter basement floor and two 3,500-square-meter overground stories. In front of the main building lies a plaza. And at the very center of it stands the bronze statue of Chen Yun with corridors and ponds lying at its both sides. Green pines and cypress trees are planted around the main building, while a small bluestone-paved plaza standing at the back of the main building. And Former Residence of Chen Yun stands side by side with the main building. At the back of the Memorial flows past the well-preserved Shihe River which is flanked by architectural complex featuring Southern style.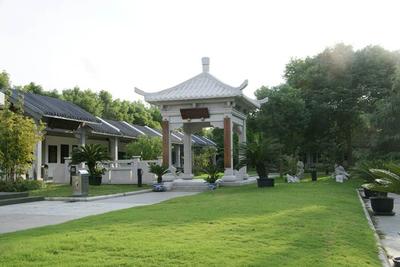 Sprawling along a central axis, the main building is strictly symmetric to stand out the lofty memorial theme. Inspired by residential buildings, the roof is a combination of well-arranged curves and slopes, leading to its solemnity, plainness, variation, distinct gradation and harmony with surroundings. The facade is mainly made from home-made building stones in simple and deep colors, and the eaves are decorated by glazed tiles. In general, for its design style, traditional and modern elements are blended in with each other. Better yet, it is also brimming with local historical and cultural richness. So, it is a perfect fusion of forms and contents. This building employs architectural language to mirror Chen Yun's personality, make the historic surroundings of his childhood reappear and reflect in abundance that Chen Yun is a man of amiableness, plainness and virtuousness. Former Residence of Chen Yun and its surrounding residential buildings bask in each other's radiance, making this residence an epitome of architectural charm of a waterfront town in south of the lower reaches of the Yangtze River.
Chen Yun Memorial was started on March 15th, 1999, and completed on April 25th, 2000. Former Residence of Chen Yun and Qingpu Revolutionary & History Memorial won the 2000 Shanghai Magnolia Award for Construction Project and 2001 Silver Prize of National High-quality Project by the Ministry of Housing and Urban-Rural Development of China.